Job Opportunity – Part-time Conservation Education Coordinator
JobPostingParttimeConservationEducationCoordinator13480AUG302023
https://www.co.wayne.in.us/web/jobs/index.php
Tire Collection Day
Saturday, September 30, 2023
9AM – Noon or until bin is full
check out the link below for all the details!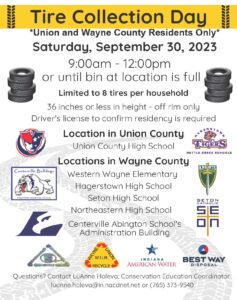 Welcome Chloe Chapman – Assistant Conservation Education Coordinator

My name is Chloe Chapman. I went to Union County College-Corner School District from kindergarten to tenth grade. I then transferred to Indiana Agriculture and Technology School. I was supposed to be in the class of 2024, but I was able to graduate a year early. I am a 2023 high school graduate. I was in FFA for 3 years, and I have shown goats for 4-H for 9 years. I enjoy working with livestock, hunting, and fishing. I started working as an Assistant Conservation Education Coordinator on May 23, 2023. I am excited to see where this job will take me.
2023 OISC Clean Sweep Pesticide Disposal Program
August 15th, 2023 – Wayne County Fairgrounds – 2023 Clean Sweep Info-Participant Form  
form must be submitted by August 9th, 2023.
Check out this game at the link below to see how well you do knowing about recycling and waste disposal!  You may have to scroll down the page to get to them.  Game provided by ReCollect!
https://recollect.net/waste-sorting-game/?utm_campaign=Municipal%20Newsletter%20March%202021&utm_medium=email&_hsmi=113612171&_hsenc=p2ANqtz-_nSeSq-wS1LucLfAjOByBzuwc-3xTciqjW779gsjxOsh-e5ThQU5PNcAis3I0yQNhrP6l_s6qZwAcVqu9qFvI_mVaiyFVaqqzaUozxyuU5gddnwyc&utm_content=113612367&utm_source=hs_email
WCTV – Wayne County Connections – Recycling
AG Plastics Drop Off – Video of the event on Oct 9th, 2017. 
Additional local events click here
Check out these links for more information about events hosted in the area: