Tox-A-Way Day Sat  Mar 11 9AM to Noon at Union County Co-op
Latex Paint will NOT be accepted.  Please see additional information on safely dispose of paint.
JobPostingParttimeConservationEducationCoordinator13480December192022
POSITION VACANCY
APPLICATIONS FROM THE GENERAL PUBLIC WILL BE ACCEPTED
BEGINNING DECEMBER 19, 2022 AND POSTED UNTIL POSITION IS FILLED.
JOB TITLE:              Part-time Conservation Education Coord.  #13480
            Date Posted:              December 19, 2022
            Department:              Soil and Water
            Hours:                        Up to 29 hrs. per week
            Salary:                       $16.26/per hour
👀

❗️

We are sorry to announce that WUR SWMD's Tox-A-Way Day scheduled for August 20th at the Union County Co-op in Liberty, Indiana, will be postponed. The company WUR SWMD has contracted with to collect and haul the materials has had an incident and repairs need to be made before the facility will be back online at full capacity and able to process the materials.

Please keep watch for when the rescheduled date will be posted. Thank you for your patience and understanding. As soon as a date is confirmed we will re-post the Tox-A-Way Day.
Wayne County SWCD receives $1000 grant funding from Whitewater Valley REMC's Round Up program for 2021 Conservation Days.  A big thank you to all that participate in this program to help make this a fun event for our 3rd/4th grade students here in Wayne County!!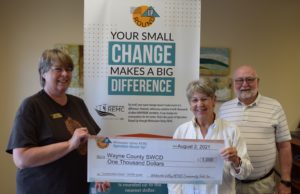 Wayne County Soil & Water Conservation District – news release
Check out this game at the link below to see how well you do knowing about recycling and waste disposal!  You may have to scroll down the page to get to them.  Game provided by ReCollect!
https://recollect.net/waste-sorting-game/?utm_campaign=Municipal%20Newsletter%20March%202021&utm_medium=email&_hsmi=113612171&_hsenc=p2ANqtz-_nSeSq-wS1LucLfAjOByBzuwc-3xTciqjW779gsjxOsh-e5ThQU5PNcAis3I0yQNhrP6l_s6qZwAcVqu9qFvI_mVaiyFVaqqzaUozxyuU5gddnwyc&utm_content=113612367&utm_source=hs_email
WCTV – Wayne County Connections – Recycling
AG Plastics Drop Off – Video of the event on Oct 9th, 2017. 
Additional local events click here
Check out these links for more information about events hosted in the area: